2022.12.01
WRH Team visits Nakamoto Lab to experience olfactory display and "The Aromatic Garden".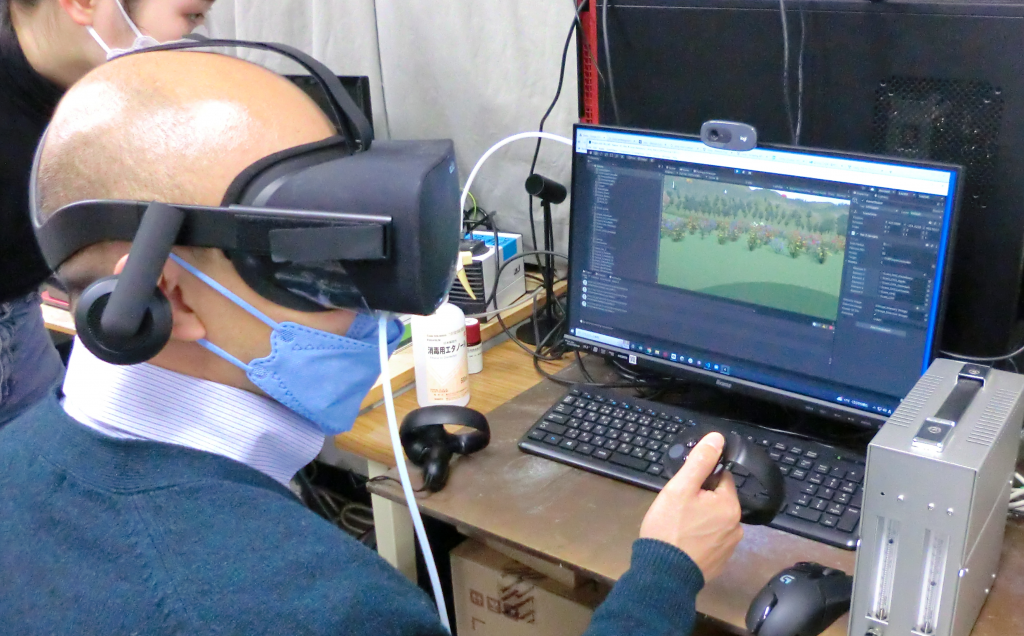 Experiencing "The Aromatic Garden" at Nakamoto Lab.
Supported by the WRH Program Overseas Researcher Invitation, Specially Appointed Professor Nathan Cohen visited Tokyo Tech during September and October 2022 to conduct joint research with Professor Takamichi Nakamoto at the Institute of Innovative Research.
Under the two professors' guidance, master's student Saya Onai has engaged in creating an interactive game titled "The Aromatic Garden". The current version of the game combines a virtual 3D environment with odor display technology, developed by Nakamoto Lab, allowing users to not only see but also smell a virtual world. As a player moves through the game's virtual landscapes they search for embedded smells. On October 27, WRH team members visited Nakamoto Lab to experience the technology, and its various scents, firsthand.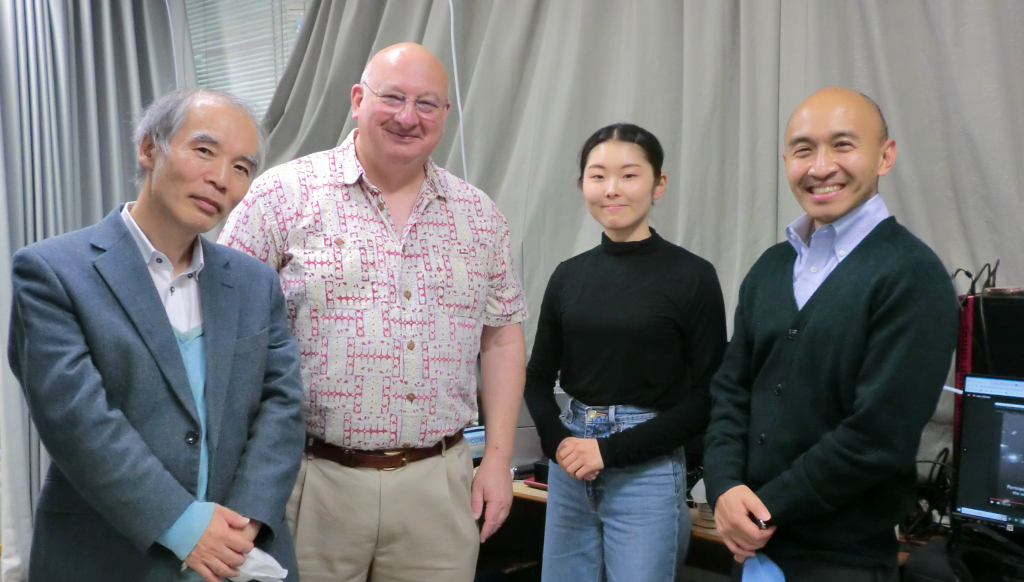 From left: Prof. Nakamoto, Prof. Cohen, Saya Onai, Charles DaSalla (IRFI-WRH).
The research team also plans to apply the technology to support rehabilitation for individuals with olfactory impairments, such as those with anosmia and post-COVID-19 infections.
Professor Nathan Cohen is an artist and Researcher in Art and Science at the University of the Arts London. He has authored numerous works, including The Art of Science, which explores representations of technology in art throughout history.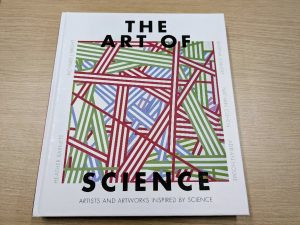 The Art of Science. This copy was kindly gifted by Prof. Cohen to the WRH Team.
Related links:
– Onai, S., Cohen, N., & Nakamoto, T. (2021). The Aromatic Garden: Exploring new ways to interactively interpret narratives combining olfaction and vision including temporal change of scents using olfactory display. In SIGGRAPH Asia 2021 Emerging Technologies (pp. 1-3). (DOI)
­­– Barnett, H., Calvert, S., Cohen, N., Bright, R. J. (2021). The Art of Science: Artists and Artworks Inspired by Science. United Kingdom: Welbeck Publishing. (Google Books)
– World Research Hub (WRH) Program
– Nakamoto Lab