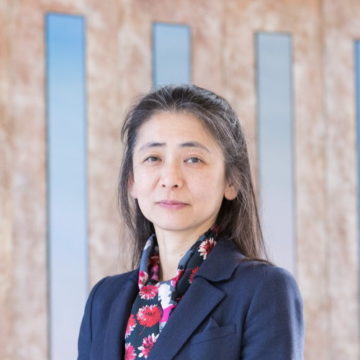 Materials/Devices
Junko Morikawa
Professor
Thermal ScienceEngineering, Polymeric and Organic materials
Research Projects
Development and standardization of measuring systems to determine the heat transfer properties
Topics
A micro-thermometer to record tiny temperature changes
| | |
| --- | --- |
| 1989 - 1994 | Sumitomo Chemical Co. Ltd. |
| 1994-2011 | Assistant Prof., Graduate School of Engineering, Tokyo Institute of Technology |
| 2011 - 2013 | Associate Prof., Graduate School of Engineering, Tokyo Institute of Technology |
| 2013 - 2016 | Prof., Graduate School of Engineering, Tokyo Institute of Technology |
| 2016 - | Prof., School of Materials and Chemical Technology, Tokyo Institute of Technology |
| | |
| --- | --- |
| 2014 | ISO/TC61 Outstanding Service Award |
| 2017 | The JAPAN SOCIETY OF CALORIMETRY AND THERMAL ANALYSIS AWARD |
2018

A. Godin, E. Palomo del Barrio, J. Morikawa, M. Duquesne, Microscopic infrared thermography for fast estimation of the thermal properties of thin films, Journal of Applied Physics, Vol 124, pp.085111, 2018, doi: 10.1063/1.5037931.

Cai L. Song, M. Ryu, J. Morikawa, A. Kothari, S.Kazarian, Thermal effect on dispersive infrared spectroscopic imaging of prostate cancer tissue, Journal of Biophotonics, First published: 13 July 2018, https://doi.org/10.1002/jbio.201800187.

S. Kirchner, S. Narinsamy, A. Sommier, M. Romano, M. Ryu, J. Morikawa, J. Leng, J.C. Batsale, C. Pradere, Calibration procedure for attenuation coefficient measurement in highly opaque media with infrared focal plane array spectroscopy, Applied Spectroscopy, Vol. 72(2) pp.177–187, 2018, doi: 10.1177/0003702817736320.

A. Balčytis, M. Ryu, S. Juodkazis, J. Morikawa, Micro-thermocouple on nano-membrane: thermometer for nanoscale measurements, Scientific Reports, Vol. (8), Article number: 6324, 2018, doi:10.1038/s41598-018-24583-w.